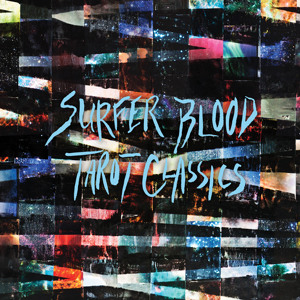 Surfer Blood are a busy band. The Florida-based group have been on the road virtually non-stop and bagging support slots for the likes of Pixies and Vaccines is an all right way of continuing. Of course, it can get boring touring the same album for an extended period of time, especially if crowds are most likely to only respond to singles. In light of this, Surfer Blood have penned and recorded a new EP to come as a stopgap between what we must assume will be a second record.
'Tarot Classics' starts almost where 'Astro Coast' left off, in a kind of halfway house between being interesting, like Vampire Weekend mixed with the Smiths and being incredibly dull, like the piles of landfill that flood indie hallways. Sadly, after the first two tracks, Surfer Blood fall off the first wagon, into the second. 'I'm Not Ready' has the kind of bounce that new British tour buddies the Vaccines are enjoying at the moment and 'Miranda' has the potential to fit in on the Drums' first material, but after that it's like stepping into a puddle. You can get a bit of enjoyment from the splash at first, but then you realize that you've just stepped in dirty water and you're now a bit wet. Your shoes are wet and you really wish you hadn't bothered. Sadly, Surfer Blood have fallen into the trap that Bloc Party have and spent so much time on the road that their music and direction has self imploded. I'd much prefer to listen to the Drums' 'Summertime' EP or part of the Smiths back catalogue than listen to anything more than 'Miranda' (which is free anyway; stream it below). 'Tarot Classics' is kind of like tarot cards themselves – a bit misleading. No classics here.
4.5/10
'Tarot Classics' from Surfer Blood is available this week from Kanine Records.