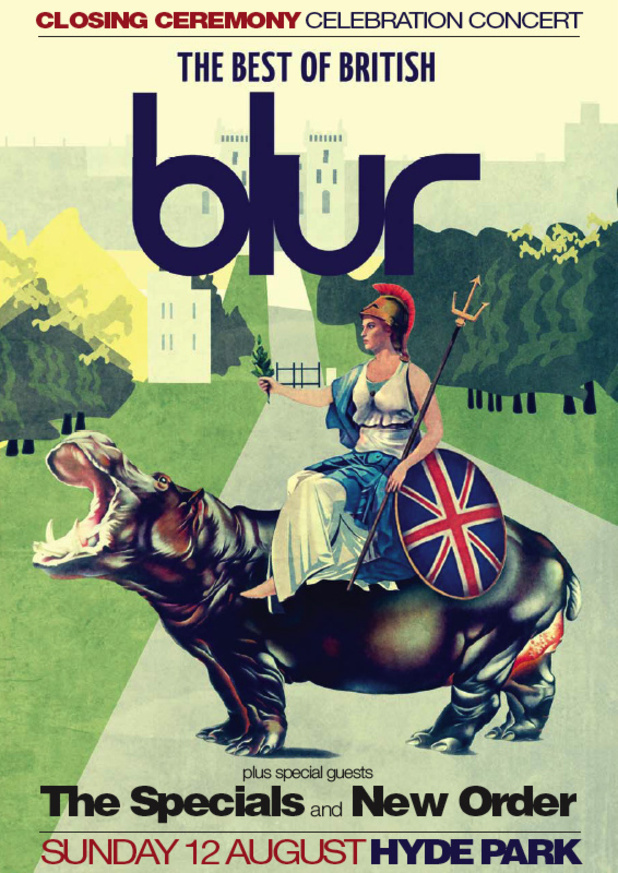 This month, Blur's debut album 'Leisure' turns 21. Of course, their debut 12" single of "She's so High' is well on its way to 22 (I should know, I own the ruddy thing), but nonetheless, the big birthday of 'Leisure' at the end of this month signals a certain coming of age for the winners of that Britpop battle all those years ago.
Of course, much has changed in those 21 years. People listened to the Stone Roses and we had a Tory government. Well, maybe not much has changed in society but for Blur, things have. Alex James has consumed a lot of cheese and Dave Rowntree's dabbled in politics. Damon and Graham have split, done their own thing, harmoniously reunited, briefly parted ways again and are now back together again as part of Britpop's best bromance. It's certainly been a roller coaster relationship.
That second coming together back in February at Graham's War Child show was where they first premiered the better of of the two new tracks premiered live from a London rooftop on Monday night, 'Under the Westway'. Coming in at a cross between Procol Harum's 'A Whiter Shade of Pale' and the Beatles' 'Let it Be', it's as much a reconciliation between lost brothers in arms as it is a rambling to last call in the bar. It's Blur at their most honest and that's with Damon at the helm, baring his soul. It's 1995's 'Best Days' for the modern era.
[youtube]http://www.youtube.com/watch?v=m5DlAZoEsfo[/youtube]
I only wish you could say the same about 'The Puritan'. Whilst it's a culture conscious pop-song with lyrics that Damon just couldn't have created with Gorillaz, that's no excusing everything else. That drone, the appalling drum sound, the torturous la's (not the band, the actual bit of the song), it's all a festival for a band that simply lost the plot and tried to re-create the singalongs of 'The Great Escape' and 'Parklife' without ever coming close in audible enjoyment. Don't get me wrong, I enjoyed 'Think Tank', but this is not it.
[youtube]http://www.youtube.com/watch?v=_zDNv8HTecw[/youtube]
In coming of age, Blur have reminded us of what most people do on their birthdays. They've reminded us of the beauty they can create and the lyrical possibilities of twisting madness into social commentary with a London flair (aka, the best). They've also reminded us that mixed into those albums there's the last half of 'Modern Life is Rubbish', the middle of '13' and right inside the brilliant 'Parklife', there's 'Trouble in the Message Centre' and 'Jubilee', which are nothing short of painful. If they're going to do them both at Hyde Park to close out the London 2012 Olympics, I'd bring some tissues to dab your tears and then block your ears with. Then again, they never did anything by half.
The recorded versions of 'Under the Westway' and 'The Puritan' are available for download purchase now. A limited edition, double A-sided single will be released on Parlophone on the 6th of August.